A professional bass luthier in the Houston area, Joey Naeger repairs, sets up, and makes basses for players in the Houston area and beyond. A bassist himself, Joey also performs throughout the Houston area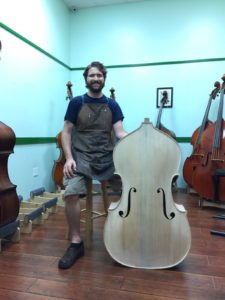 .  His interest in the bass began when his seventh grade orchestra director recognized that as a tall and lanky middle schooler, his talents would be better used on the bass than the violin. It was during a summer bass camp that bass luthier Jim Ham gave the presentation that sparked his interest in instrument construction and restoration. While studying bass with Dennis Whittaker at the University of Houston, Joey was offered a position as a bass setup specialist at the Lisle Violin Shop. Working at Lisle, he has set up and repaired hundreds of double basses. Joey continually strives to improve his skills as a luthier by attending workshops such as the Oberlin Bass Maker's Workshop and the Rodney Mohr Bow Rehair workshop. He has studied with a number of luthiers including Dorian Barnes, Arnold Schnitzer, and Raymond Schryer.  Joey uses his experience as a performer to inform and improve his luthier work. He received a workmanship award for one of his basses at the 2016 VSA competition. He currently lives in Katy, Texas with his wife Hope Cowan and cat.

As a maker, Joey strives to build beautiful, classically styled basses that serve the needs of contemporary bassists. Utilizing both modern CAD software and renaissance drafting technique, Joey makes original models for his basses inspired by the classic beauty of Cremonese violin making. On the repair side, Joey is committed to working one on one with players to optimize the sound and playability of their instrument.

For information on instrument availability and repair inquires, please visit the contact page.